Crypto Wallet to CoinTracking
v2.2.2
Converter
I most countries mining is taxable income, and if you still want to override this, you can use filter at CoinTracking Report page (this will not realize gain until the asset is sold):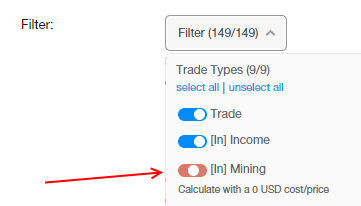 You'll be able to download CoinTracking file after clicking Convert
How to Use
The process is simple. Export all transactions to CSV file (you can filter by date in wallet client to perform partial imports/updates). Then load exported CSV to this converter and download CoinTracking compatible CSV file and import to CoinTracking.
Review imported transactions, especially withdrawals will need fee adjustments, a comment will appear in CT. Once you adjust the fee delete the comment.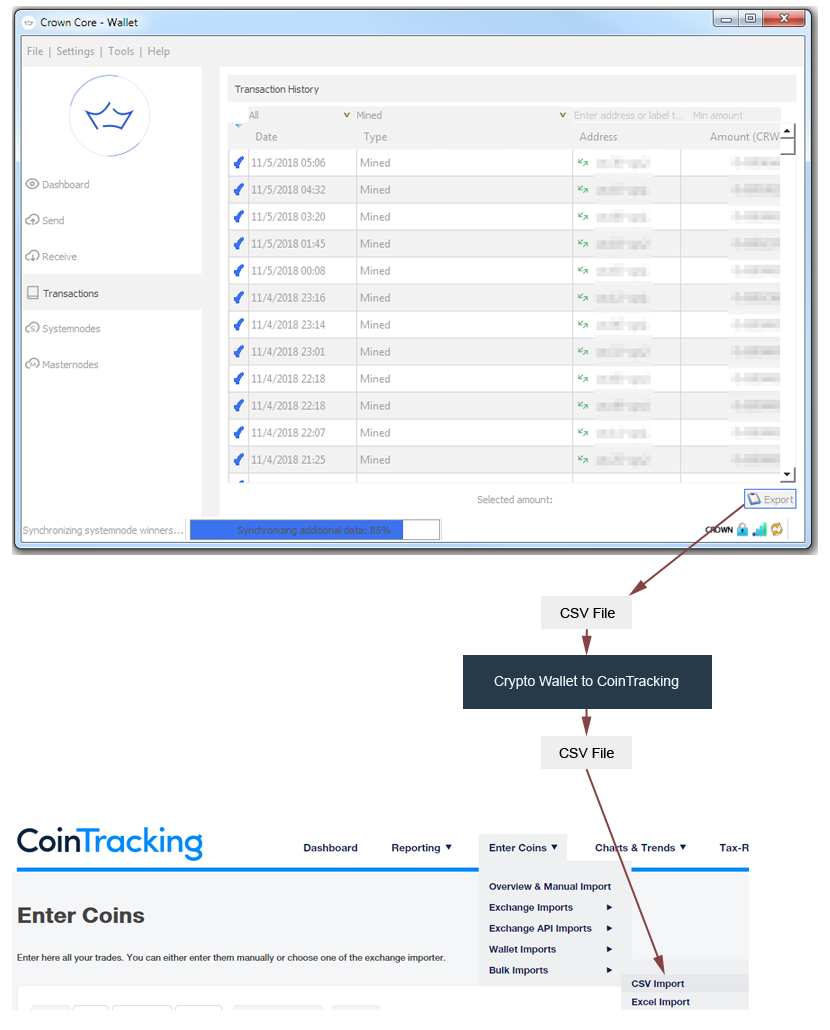 About
This is offline converter, so conversion is performed in the browser. Your data is not being sent anywhere. It should work with all wallets that are forked from Bitcoin, Dash, PIVX, as long as the exported CSV file has given header:
"Confirmed","Date","Type","Label","Address","Amount (XXX)","ID"
Donate
If you think this tool is useful, consider donating to the author, it will help to maintain this tool and create new ones.
Thanks!
| | | |
| --- | --- | --- |
| | Bitcoin (BTC) | bc1qt8kd0ftz7y6rk6x7wwdm74v3848adhrhj3d42u |
| | Bitcoin Cash (BCH) | qpxkjyjrxdcd57wrwez9wg7elu20gzvu4qn3j4t4rm |
| | LiteCoin (LTC) | LNYffmyYBacgQPdPyftSHt5KcC1WF2kpm4 |
| | DigiByte (DGB) | DNVodL8gwAdNDPvuv6SNWptDbAywZwLoWU |
| | Syscoin (SYS) | SNEJVqQVF3cMRZeQjuKPh1bjdJveqznTdY |
| | ZCash (ZEC) | t1M18s2noGXd92v7xW4sYSRogV6T7HK6Bgj |
| | Monero (XMR) | 4AVYbSPHYP9gZRLkdpXNuNAKVQNymntPJUSTguyXziF9WgJppVpKFoHJQVjJkZQ6NhTMzGz6gSjNGaCQvswMgLe9MhGVXRw |
| | Aeon (AEON) | WmtwWaaFimBed3WE776ScG9EUR4ATq38ZZPZPU62QpJdBpc2wnzjjJhht3qo9AYnYUFVHG3osdQHshSXLUmF4a961QGH25FGt |
| | BitcoinZ (BTCZ) | t1UvBc7s1qNAjY5deR2mmeGLnybEN8Bp6Lb |
| | Dash (DASH) | Xksnyf9Jxhij65nsdopBJDQb2B1kqze5rJ |
| | PIVX (PIVX) | DB7DTG5Mg1K4CN12vxo1aoL97qQ4rWiXsX |
| | Verge (XVG) | DQMsdWDH4wHrKMa3f3QHHc1BQ1uLbWWMa2 |
| | Stellar (XLM) | GDVMJK62FYXFKQC7FOVLP2HKX5QDWSIET6XWTIIEP3QY2S65CCBDNYNL |
| | Stratis (STRAT) | SP2tUjxJdn7BjzEezrJtWhAbEu2iSttC48 |
| | Bitcoin Gold (BTG) | GcMHJaTKrLrk9RcyJ5SK7YaX1uJ92B3Ehi |
| | Dogecoin (DOGE) | D7YpAAF6k8R9jCgfDYu1UjEVdq6hnFPKSu |